Rilwan Hassan Should Improve On Finishing
Published: April 01, 2013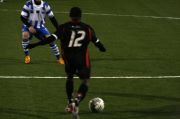 FC Midtjylland manager Glen Riddarholmen is very happy with 22-year-old Rilwan Hassan's development but has advised that the Nigerian winger should improve on his finishing if he is to live up to his full potential.
''
In relation to the quality he has - and in terms of how much he employs opponents with his speed, dynamism and, not least, challenges, he must be more decisive in the final third.
We are working on it, but it is perhaps the hardest part of the game,''
says Riddarholmen to bold.dk.

With 101 matches for FCM, Rilwan Hassan can no longer be said to be an upcoming talent.

''
If you only look cold and cynical at the statistics, it must be better.
But if you analyze the games as I do, you see an ever more mature player who take far more correct and wise choices than ever before,''
Riddarholmen added.


FC Midtjylland will on Monday lock horns with
FC Nordsjælland in Farum.