Niyi Akande Clocks 71, Reflects On Plight Of Colleague
Published: April 02, 2013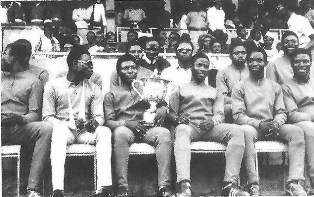 The manager of Crown FC, Niyi Akande has reflected on the plight of his colleagues as he clocked 71 years on 1st of
April.
While addressing the press from his Ogbomoso base, the former Shooting Stars coach gave thanks to God for keeping him safe and sound to attain the ripe age, but expressed anxiety over the health of his friend and colleague, Jossy Lad who is lying critically ill at University College Hospital Ibadan.
''I and Jossy have been friends since 1963, we both played for Ibadan XI, western region and WNDC FC from where we were called to national team together in 1971/72 along with the likes of Peter Fregene, Tonny Ottah, Josiah Dombraye, Ismaila Lulu, Ismaila Mabo, Godwin Achebe and Sebastian Brodericks-Imasuen among others.
''We played football and won laurels together, we also attended a coaching course together in Durham, England in 1973, so you can see how uncomfortable I'm over Jossy Lad's health,'' Akande noted.
He however, thanked The Governor of Oyo State, Senator Abiola Ajimobi and his commissioner for Youths and Sports, Dapo Lam-Adesina whom he claimed have stood with the family of the sick coach right from the time Jossy Lad has been having health challenges.
''I'm alive and sound today at 71, not because of my right, but only because of God's grace, my prayer is to see my friend and colleague fully back on his feet.''
Akanbi Agiri