Greek Club FC Aris Pay 6,000 Euros To Olubayo Adefemi's Family
Published: April 15, 2013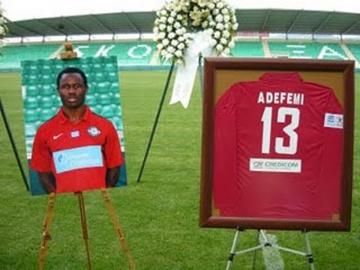 In a statement posted on the official website on Monday, FC Aris have apologized to Skoda Xanthi and the family of late Nigeria international Olubayo Adefemi over their failure to handover the proceeds of a friendly between Aris - Skoda Xanthi .
It would be recalled that both Greek clubs played an exhibition game on May 13, 2011 in memory of Adefemi Olubayo, who tragically lost his life in a car crash.
For the past two years, Aris have failed to remit the funds from the gate receipts to Olubayo Adefemi's family.
The club stated: ''From this money, paid 6,000 euros to Skoda Xanthi FC, for the family of Olubayo Adefemi, in whose memory had held a friendly game two years ago between the two clubs.
''We wish to express our sympathy to his family and to apologize to SKODA Xanthi FC for the undue delay. "