Senegal Striker Osman Sow Could Replace Omotoyossi At Syrianska
Published: April 22, 2013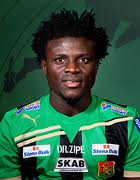 Senegal striker Osman Sow has started tests with Swedish club Syrianska, writes
fotbolltransfers.com
with reference to LT.
Razak Omotoyossi had famously signed for Syrianska. But according to FIFA, his transfer was registered late, and that's the reason the striker has not been granted a license.
The Premier League club has appealed the decision. But while waiting for clearance they are testing Osman Sow, who last played for Dacia Chisinau, Moldova.
''Osman needs to contact Swedish football association to hopefully get a transfer waiver. The exemption has been granted previously in similar cases,''says sports director in Jan Grigo to LT.se.
In 2011, Osman Sow played for Vasby United and scored 12 goals (nine assists).
Photo Credit: gais.se
Latest News