Lazio's Eddy Onazi Wants To Improve
Published: April 23, 2013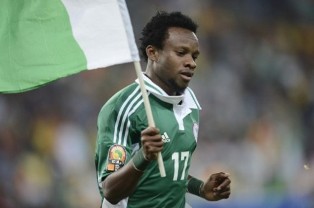 Lazio midfielder Eddy Onazi has commented on his performance, which has improved since he returned from the African Cup of Nations two months ago.
Tuttomercatoweb
citing Lazio Style Radio quoted Onazi as saying: ''Surely I came back from South Africa changed, but now I'm starting to play more, things are getting better.
''Each season I set a goal to reach and I always put 100%, I want to improve everywhere.
'' If you are at the roots of the tree, you can not expect to jump right to the top. So you need to work a lot.
''I want to improve in the passages in the way of being in the field, dribbling and also in the shot, so as to score more.
''The derby? It's an important game, a match that I already knew when I was in Nigeria.''
20 - year - old Eddy Onazi has 11 Serie A games under his belt in the current campaign.