Lady Luck Deserts Golden Eaglets In CAF Under 17 Final
Published: April 27, 2013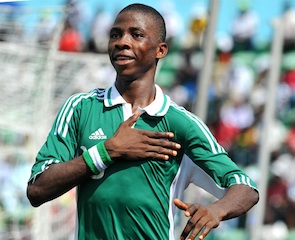 The Young Elephants of Côte d'Ivoire are the champions of Africa for footballers below the age of 17 years after defeating bookies favorites, the Golden Eaglets of Nigeria in the final of the CAF Under 17 championship.
Nigeria could not have wished for a better start to the final thanks to Standard Academy defender Izuchukwu Omego, who scored his first goal of the tournament off a corner kick by Nwakali after only eight minutes.
Chris Bile Bedia of Tours FC, France restored parity for
Côte d'Ivoire in the 27th minute.
Nigeria had several opportunities to retake the lead but failed to convert. The sending off of goalscorer Omego did not help their cause.
At the end of regulation time, the scoreline remained 1 - 1, so the game had to be settled by the cruel lottery of penalty kicks.
Lady luck deserted Chidiebere Nwakali as he failed to convert Nigeria's second spot kick. The remaining penalty kick takers for both teams kept their composure to score.
Photo Credit: MTNFootball.com