Varese CEO: Other Clubs Want Osariemen Ebagua
Published: May 02, 2013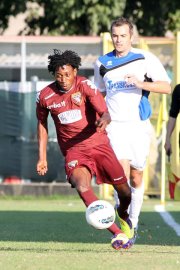 Speaking to Italian media,
Enzo Montemurro,
the CEO of Varese has commented on the transfer situation of Osariemen Ebagua, who has shelved plans to extend his contract with
The Leopards.
Tuttomercatoweb.com
quoted
Montemurro as saying: ''Verona. I don't think only Verona want him.

''Unfortunately, the player is out of contract, but I hope that he has a good end to the season maybe dragging us into the playoffs.''

Verona, who tried to lure Ebagua in the winter transfer market, are understood to lead the queue for his services.

But they face genuine competition from other teams especially Sampdoria.




Latest News