Michael Olaitan Begins Training With Olympiakos
Published: May 02, 2013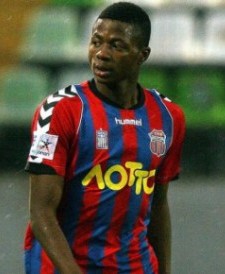 New Olympiakos signing Michael Olaitan trained for the first time with his teammates on Wednesday, May 1.
The 20 -year - old attacking midfielder completed his switch to the Greek champions two days ago.
Michael Olaitan was present at the afternoon session, which basically consisted of exercises. Afterwards, all the players were given a special routine which they must follow.
He will participate in today's workout which started at 8:30 hours Nigeria time.
Olaitan will defend the colors of Olympiakos until the end of the 2016 - 2017 season.
Photo Credit: pesstatsdatabase.com