Academica's John Ogu, Public Relations Officer Andrew Randa Take Swipe At Journalists
Published: May 05, 2013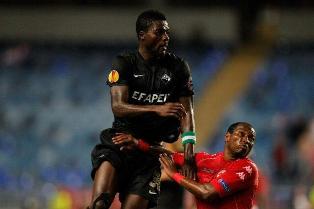 Académica's John Ugochukwu Ogu, who had not played in the Primeira Liga for the past seven weeks, returned to action on Sunday in the 28th round of matches.
The combative midfielder only returned to full training this past Wednesday.
He was introduced as a substitute in the 46th minute by manager Sérgio Conceição, and scored the match winner against Setubal with 12 minutes remaining.
The important goal was a huge relief for Ogu, who has come under media spotlight lately because of question marks surrounding his fitness.
John Ogu and his Public Relations Officer, Andrew Randa took to Twitter Saturday to take a swipe at journalists who had earlier written unfavorable reports.
''Real Quick If As a Journalist You Know Nothing,My Advice is You Try And Find Out And Don't Copy And Paste Things You Know Nothing About.
''And Also To the Journalist Who Said He Spoke 2 Ex Players About Players With Knee Injuries and Them Not Making It After 2 month,You Know.
''You Know Nothing..If You Want To Know,Am Open To Tell You..You Don't Need To Write Trash About a Boy Hustling..I Wish No One Bad.
''If You Write Trash About Me Trying To Act Like a Mr Good Journalist,Am Handlin All To GOD To Judge You,'' Ogu said on
Twitter.