Clubs In Norway, Sweden, South Africa Chase Abia Comets Sensation, Okoro David
Published: May 10, 2013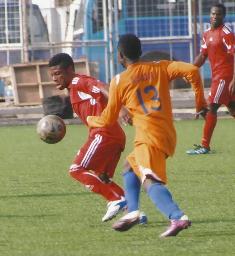 Goldfish have no hiding place like the popular saying goes. This saying is coming true in the career of Abia Starlets young attacking midfielder cum striker Okoro David Marshall as, despite playing in the Nigerian second tier, he has been attracting serious offers from clubs inside and outside Nigeria.
According to
allnigeriasoccer.com
sources, the quick footed player has been in sterling form this term, and is one of the reasons why Abia Comets are still in the Nationaal League as he has consistently been there bests player in the past three seasons.
"During the recent National League mid season transfer window, there were serious offers for the 17 year old lad from teams in the national league whom he has played against or whoo have heard of him," began our source who is very close to the Umuahia based club.
"Some clubs came with big offers, especially Crown of Ogbomosho who were willing to pay through the nose to acquire the youngster to help their push for promotion to the Premier League.
''Abia Warriors also of Umuahia were also very serious to sign him, to the extent that their chairman Chief Emeka Inyama asked Abia Comets to name their price but Comets refused to even bulk at the big offers because they need Okoro to help them sustain their status in the national league.
''He has consistently proved to be their best player. The season they won promotion to the National league, he singlehandedly made it possible by scoring 13 goals and making many others for his team mates.
"Even when the Premier league window was opened in week 9, I am certain there was serious interests for him from big clubsides but Comets have sworn to retain him as they cannot find any replacement for him and if they loose him it will affect their game because their team is built around him.
"However, I have also heard that there is serious interest from abroad for the young lad who has been dubbed the Nigerian Messi. Okoro is the most popular player in the Nigerian National League because of his ability.
''In Umuahia appreciative fans hail him as "Okoro Messi" whenever he is on the ball and many teams have failed to use intimidating tactics to slow him down.
''During their recent match against Remo Stars he was so manhandled that he sustained a wound on his head that needed many stitches to heal, yet in the very next game he was back in the thick of action because the team needed him.
"Clubs in Norway, South Africa and Sweden are showing serious interest in him and all things being equal, he will soon be playing abroad. I suspect that is the main reason why Comets are unwilling to release him to any local club."

Latest News