Obi Mikel Criticizes Chelsea Leadership For Frequent Coaching Change
Published: May 10, 2013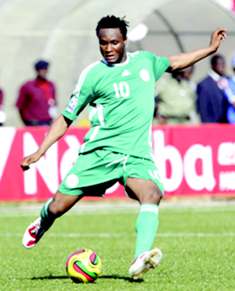 Nigeria international John Obi Mikel has criticized the leadership of Premiership side Chelsea for frequent change of coaches.
Since joining the current European champions from Norwegians Lyn Oslo in 2006, the defensive midfielder has played under eight managers.
"The club is crazy, it is. But we have to keep doing our job. We're players.
''The board, the owners, make the decision and we have to stick by whoever comes in. I don't know what's happening. It seems another manager is going to come in.
"If we are the in the same final next year, I won't be happy. The aim of this squad is to play in the Champions League,'' Mikel was quoted as saying by ESPN.
Obi Mikel has missed the last five matches played by Chelsea due to injury but is expected to feature against Benfica in the Europa League final next Wednesday.