Innocent Emeghara's Future To Be Decided At End Of The Season
Published: May 12, 2013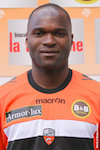 Sporting Director of Siena, Stefano Antonelli says the future of Swiss - Nigerian striker Innocent Emeghara will be clarified when the season comes to an end.
Since joining Siena on loan from Lorient in the winter transfer market, Emeghara has been a big hit.
With one round to go before the end of the championship, it has been established that the
Bianconeri
won't be playing in Italy's top flight in the 2013 - 2014 season as they have been demoted.
''There will be a meeting with the club to talk about the future. We have the right of redemption by June 30 for Emeghara and we'll talk only when championship is concluded,'' Antonelli said to
Sky Sports Italia.
23 - year - old Innocent Emeghara has scored 7 goals in 15 Serie A matches.
Photo Credit: fclweb.fr
Latest News