Vincent Enyema Reiterates Decision To Return To Lille
Published: May 12, 2013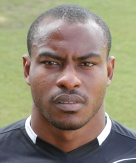 Nigeria custodian Vincent Enyeama has once again stated that he will return to Lille when his loan deal with Israeli champions Maccabi Tel Aviv expires.
Enyeama is being paid 900,000 euros per season at Lille and has two more years before his contract runs out.
In his first season with the French team, he was relegated to the bench and had to look for a new team to enable him play on a continuous basis this campaign.
''I have a signed contract for another two years with Lille and it is perfectly normal I would have to honor the contract and return there immediately after the season here in Israel.
''In Europe, not acceptable to talk to a trainer and ask him if I'll be number 1 or number 2. I hope the coach believes me and let me play with Lille ," Enyeama told
one.co.il.
Barring any unforeseen circumstances, Vincent Enyeama will return to Lille and fight for a starting shirt with Steve Elana and Barel Mouko.
Photo Credit: maccabi-tlv.co.il