Official: Razak Omotoyossi Departs Syrianska
Published: May 14, 2013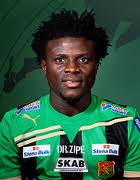 Razak Omotoyossi's transfer to Swedish club
Syrianska was not approved by football's regulator, Fifa.

The Nigerian born forward left the team last weekend, sporting director
January Grigo has told the official website.

''
Razak has been training since a few weeks back and the idea was to keep him until the next transfer window opens in July.


''He got the offer to stay and train in the form which was a prerequisite for him to be eligible for play.


''But now he is no longer an obvious choice when he left us last Saturday.
But we parted as friends and had a mutual understanding of the situation,''
January Grigo said to the official website,syrianskafc.com.


27 - year - old Omotoyossi last played for Zamalek. He is credited with 4 goals in 10 matches for the Egyptians.

Photo Credit: gais.se

Latest News