Namibia Coach Names 27 - Man Roster
Published: May 20, 2013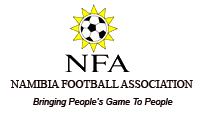 Brave Warriors coach Roger Palmgren named a 27-man squad for a friendly match against Zambia in Windhoek on Saturday, May 25, informs
namibiasport.com.na.
Rundu Chiefs' young goalkeeper Edward Maova and Tigers striker Panduleni Nekundi have been called up for the first time while several other players have been recalled to the squad after prolonged absences.
They include African Stars defenders Chris Katjiukua, Dennis Ngueza and Freedom Puriza, African Stars midfielders Johannes Seibeb and Bradley Wermann, Black Africa striker Marco van Wyk, Mighty Gunners striker Harold Ochurub and Tigers striker Benson Shilongo.
Only five foreign based players have been included namely goalkeepers Virgil Vries of Maritzburg United and Ephraim Tjihonge of Milano United, defender Willem Mwedihanga of Amazulu, and midfielders Petrus Shitembi of Pretoria University and Heini Isaacks of Maritzburg United.
Palmgren however said that Namibia's other foreign-based players like Rudolph Bester, Henrico Botes, Ronald Ketjijere, Manfred Starke, Lazarus Kaimbi and Tangeni Shipahu were not available for various reasons but will all be considered for next month's World Cup qualifiers against Malawi and Nigeria.
The Namibian squad is as follows:
Goalkeepers:
Ephraim Tjihonge (Milano United), Virgil Vries (Maritzburg United), Edward Maova (Rundu Chiefs).
Defenders:
Willem Mwedihanga (Amazulu), Larry Horaeb (Ramblers), Chris Katjiukua (African Stars), Dennis Ngueza (African Stars), Freedom Puriza (African Stars), Da Costa Angula (Black Africa), Denzil Haoseb (Black Africa), Ananias Gebhard (Tigers), Emilio Martin (Ramblers).
Midfielders:
Willy Stephanus (Black Africa), Johannes Seibeb (African Stars), Petrus Shitembi (Pretoria University), Bradley Wermann (African Stars), Bryan Bantam (Black Africa), Marco van Wyk (Black Africa), Deon Hotto (African Stars), Neville Tjiueza (Tura Magic), Heini Isaacks (Maritzburg United).
Strikers:
Pineas Jacob (Tigers), Sadney Urikhob (Civics), Panduleni Nekundi (Tigers), Harold Ochurub (Mighty Gunners), Benson Shilongo (Tigers) and Roger Katjiteo (Black Africa).
Latest News