Siena To Purchase Innocent Emeghara
Published: May 31, 2013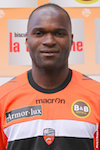 According to reporting by celebrated Italian sports daily
La Gazzetta dello Sport,
Siena are working on the acquisition of Swiss - Nigerian striker Innocent Emeghara from Lorient.
Following the relegation of the Tuscany based outfit, the outright purchase of Emeghara from Lorient had earlier been in doubt as the club's finances will be greatly affected by its relegation to Italy's second - tier.
Sampdoria, Lazio and Fiorentina have been linked with Innocent Emeghara this summer.
It is being speculated that Siena will buy the 24 - year - old forward for a fee of around three million euros and sell him at a premium to an interested club.
Photo Credit: fclweb.fr

Latest News