Vincent Enyeama: I Know Lille Don't Want To Sell Me
Published: June 11, 2013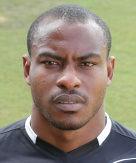 Nigeria international Vincent Enyeama, who is currently with the National Team in Namibia, has commented on reports which suggested that Lille could sell him to Maccabi Tel Aviv for a transfer fee of 1.5 million dollars.
''Right now, Lille did not speak with me. I was free after the end of the season and I am with the national team of Nigeria.
''I repeat I'll know better only after Lille talk to me. I know of no intention for them to sell me.
''I am going back there (Lille, ed) automatically,'' Enyeama told Israeli website
one.co.il
.
Maccabi Tel Aviv are expected to resume pre - season training in less than a week.
Photo Credit: maccabi-tlv.co.il
Latest News