Tony Nwakaeme Threatens To Take Steaua Bucharest To Court
Published: June 13, 2013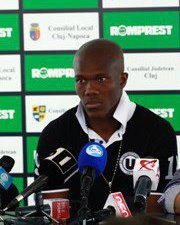 Tony Nwakaeme is not pleased that Romanian champions Steaua Bucharest disclosed his medical condition to the public and has threatened to file a civil complaint in court.
Just last week, the leadership of Steaua leaked information to the media that the Universitatea Cluj striker was not offered a contract because he failed a medical.
''It seems natural that people who were not even present during my medical visit say I have health problems.
''I am going to sue the people at Steaua Bucharest because they are professionals and this has affected my image.
''Everybody is now saying that if Steaua did not offer me a contract on medical grounds, I am not good for any other team.
''They can talk about my possible problems face to face and not to appear on television and say false things,'' a source close to Tony Nwakaeme told
gsp.ro.
Furthermore, the 24 - year - old debunked reports that he had knee problems.
''It is not true that I have health problems. I was in Bucharest for a medical, but we did not agree on money. The Steaua offer was not good for me,'' he said.
Photo Credit: Private
Latest News