Hapoel Tel Aviv Keen To Re-sign Vincent Enyeama
Published: June 15, 2013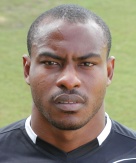 Hapoel Tel Aviv have intentions of signing Nigeria numero uno Vincent Enyeama this summer. The Super Eagle is not guaranteed match time at Lille this coming season.
Thus, the Reds are looking into the possibility of having him play for them again next term.
''We are looking into the options, I wish it to be undertaken and Enyeama will return to us.
''Scorned us when we opened negotiations with Schechter and at the end we have signed him. Enyeama with a low chance, but we do not raise fast hands,'' a club official informed Israeli website
one.co.il.
Hapoel Tel Aviv believe Vincent Enyeama could be a key figure in their quest for the title as well as the club's aim to qualify for the group stage of the Europa League.
He made 27 appearances for Maccabi Tel Aviv in the 2012 - 2013 season.
Photo Credit: maccabi-tlv.co.il
Latest News