Mosta Show Ezeh, Chiemeka The Exit Door
Published: June 26, 2013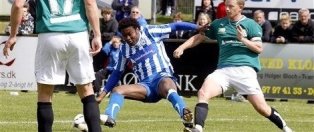 Malta Premier League side Mosta have disclosed that they won't be retaining Nigerian players Emmanuel Ezeh and Steve Chiemeka in the 2013 - 2014 campaign.
''We will not be renewing the contracts of Emmanuel Ezeh, Steve Chiemeka, Carlos Compagnoli and the new Balzan signing Fabio Vignaroli,'' coach Danilo Doncic confirmed to
sportinmalta.com.
26 - year - old defender Steve Chiemeka recorded 13 appearances in the championship last season, scoring once against Floriana back in January.
On the other hand, midfielder Emmanuel Okafor Ezeh, who joined Mosta last summer, was not credited with any official appearance for the
Tar-Rotunda
.
Latest News