Uruguay Coach Picks Olaitan, Ajagun As Flying Eagles Danger Men
Published: July 01, 2013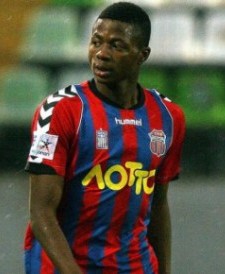 Head coach of the Uruguay Under 20s, Juan Verzeri remains cautious ahead of the eagerly anticipated round of 16 clash with African bronze champions Nigeria on Tuesday in Istanbul.
Nonetheless the South Americans are targeting qualification for the quarter-finals of the Fifa Under 20 World Cup as the gaffer has a joker up his sleeve, by exploiting the defensive weaknesses noticed in the Flying Eagles squad.
''They have players of great class. Is the eight, Michael, with a great vision and passing, also 10 (Abdul Ajagun), 9 (Olarenwaju Kayode) and 7 (Aminu Umar). But they also need to worry about our quality, " Varzeri was quoted as saying by
futbol.com.uy.
In addition, Juan Verzeri picked the Nigeria selection as the best team in Group B, even though they lost their opener to Portugal 3 - 2.
''They are a team of great physical exuberance. We have seen the three games they played and all was well above rivals, even against Portugal, but lost 3-2,'' he said.
The winner of the Nigeria - Uruguay match will lock horns with the winner of the clash between Spain and Mexico in the quarter-finals of the tournament.
Photo Credit: pesstatsdatabase.com