Innocent Emeghara Temporarily Remains At Siena
Published: July 01, 2013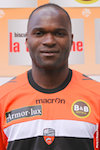 Sporting Director of Siena, Stefano Antonelli has sensationally revealed to Italian media that Innocent Emeghara has been purchased from Lorient.
''Emeghara? Has already been bought. When we will place our position regarding registration, will be one of our players and we can sell,'' Antonelli told
Tuttomercatoweb.com.
Innocent Emeghara was impressive in the Serie A last season, netting 7 goals in 17 matches.
This summer, he was wanted by teams in the Bundesliga plus Serie A clubs led by Sampdoria. But Siena had the right of first refusal to sign the Switzerland international forward.
Emeghara previously had contractual obligations with Lorient until the summer of 2015.
Photo Credit: fclweb.fr
Latest News