Missing Christian Obodo Found In Italy; Companion Arrested For Being In Possession of Marijuana
Published: July 03, 2013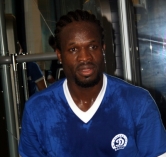 Nigeria international Christian Obodo, who was reported to be missing by Dinamo Minsk, was found hale and hearty in Udine, Italy on Tuesday.
This past weekend, the Director General of Dinamo Minsk, Sergei Pavlyukovich interviewed by
goals.by
declared Obodo missing.
It is not the first time that law enforcements agents have gone searching for the central midfielder.
While vacationing in Warri, Nigeria last summer, Obodo was kidnapped by gunmen who later contacted his family and asked for a ransom. He was later rescued by police.
In this latest incident, the former Udinese ace was found by a police patrol in Udine, Italy, which is a distance of approximately 1,500 kilometers from Minsk.
The police found Obodo in a car with two Romanian girls and a male friend, who was arrested for being in possession of 52 grams of marijuana.
Meanwhile, Christian Obodo's agent, Salaroli Sebastian has labelled him a difficult character, often finding himself in conflict situations with his previous employers.
Photo Credit: dinamo-minsk.by