Stephen Keshi Impressed By Ahmadu Bello Stadium
Published: July 04, 2013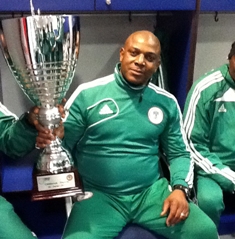 Head coach of the Super Eagles, Stephen Keshi was left stunned by the lush green nature of the Ahmadu Bello Stadium when the team came to train at the pitch for the first time on Thursday.
Keshi praised the stadium management for their maintenance of the facility and the quality of the playing surface,referring to the pitch as world class and wished other states emulate the practice of the Ahmadu Bello Stadium management.
Speaking shortly after Keshi's praise, the NSC Zone 1 Director, Dr. Ademola Are whose zone is responsible for the management and maintenance of the stadium said with proper finances and support the stadium will be one of the best in the country and
Africa at large.
He went further to say that works on the pitch are still ongoing as finishing touches are being made and will be concluded before Saturday.
The water and electricity condition of the stadium is still a concern but the zonal director remains optimistic the hurdle will be crossed before the encounter against the Elephants.
Photo Credit: thenationonlineng.net