Efe Ambrose: Don't Call These Players Home Based Eagles
Published: July 04, 2013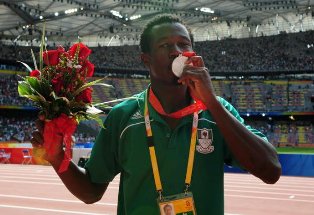 Glasgow Celtic stopper Efe Ambrose has called on the Nigerian football populace to desist from calling the domestic players currently preparing for the CHAN qualifier against Ivory Coast as home based Eagles.
Ambrose was at the team's training on Thursday to cheer and motivate his colleagues ahead of the crucial encounter against the Ivorian national team.
''I feel it's wrong to call the team home-based Eagles as they are professional footballers even though based at home.
''When they put on the green white green jersey, they are representing Nigeria not the local league.
''I have played in Europe for the past three years and players based in their domestic leagues are not called home based.
''Why is the practice different here in Nigeria?'' Efe Ambrose told
allnigeriasoccer.com.
Adding to his previous statement, the versatile defender said:
''I am convinced that this team will be the first to qualify for the African Nations Championship.
''They have been part of the main national team for about two years now.
''Nigerians should not put them under pressure but support them with prayers.''