Dinamo Minsk: Christian Obodo Fled To Italy
Published: July 04, 2013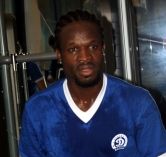 Sergey Pavlyukovich, Director General of Dinamo Minsk has shared his opinion on the absence of Christian Obodo from the club.
It would be recalled that the central midfielder was declared missing only to found by a police patrol in Udine, Italy two days ago.
Goals.by
citing
Komsomolsk truth
quoted Pavlyukovich as saying: 'Obodo was absent from training with the team on June 27. And information on the whereabouts of the football player we got from his lawyer on July 1.
''We offered for Christian to be evaluated in Minsk, but he refused and fled to Italy,.''
Christian Obodo signed a one - and - a - half year contract with Dinamo Minsk in the winter transfer market.
Photo Credit: dinamo-minsk.by