Christian Obodo: I Am In Italy For Treatment
Published: July 04, 2013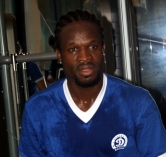 Nigeria international Christian Obodo, who was declared missing by his Belarusian club Dinamo Minsk, has commented on the reasons why he left the location of the team.
In his statements to the press in Belarus, Obodo claimed officials of Dinamo Minsk are aware of his whereabouts.
''I'm in Italy for treatment. The management of Dinamo knows about it. I received a serious injury, so I had to ask the coaching staff to let me go for a while.
''In Italy, I have a doctor friend who watches my recovery. I practice every day, today, for example, visited the classes in stretching, but the recovery period is not defined. I love Dinamo and I want to help the team as soon as possible,'' says Obodo to
goals.by.
The ex Fiorentina, Udinese and Lecce ace left the capital of Belarus exactly a week ago, specifically June 27.
Since signing a contract with Dinamo Minsk back in February, Obodo has not played a single game in the Premier League.
Photo Credit: dinamo-minsk.by