Official: Panionios Release Emmanuel Okogie
Published: July 06, 2013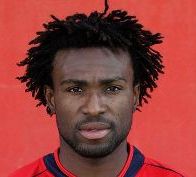 In a statement on its official website, Greek club Panionios has announced that the contract of Nigerian striker Emmanuel Okogie will not be extended, meaning he can leave the club as a Bosman player.
''FC Panionios GSS announces it will not renew the contract with the footballer Emmanuel Okogie.
''Wish him good luck in his career, '' the statement read.
AEK Athens, who were relegated from the Super League at the end of last season, are believed to be interested in Okogie.
In the last two seasons, Okogie, 22, recorded 20 appearances in the Super League for the Blue - Reds.
Photo Credit: transfermarkt.com
Latest News