Post Match Conference - Stephen Keshi: This Is The Mba I Know
Published: July 07, 2013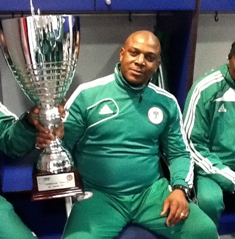 In this interview, Nigeria gaffer Stephen Keshi speaks on the Super Eagles 4 - 1 win over Ivory Coast on Saturday in one of the qualifiers for CHAN 2014.
ON THE TEAM PERFORMANCE.
..
''We started off brightly and I must say the debutants in the game showed no nerves,we were cruising and we could have sealed the game in the first half if the goal scored by Gambo Mohammed stood.
ON THE DISALLOWED GOAL...
''It was a good goal. I must say I didn't see anything wrong in the strike. That disallowed goal was key to the Ivorians pulling a goal back because a third goal from us would have killed it as a contest. Credit to them they responded to the disallowed goal by pulling a goal back.''
ON IF THE GOALS SHOULD HAVE BEEN MORE...
..
''Honestly it should have been more because we had the chances and numerical advantage after two of their players were sent off. c
Credit must also go to the Ivorians the way they shaped after the red cards made it difficult for us to create clear cut chances but we scored four times and I will tell Nigerians that very soon the goals definitely will flow as long as we are creating the chances in games.''
ON THE GOAL CONCEDED...
''We did the drill severally in training about wingers cutting in and how to stop it....Yet we conceded via what we practise to stop. It wasn't a goal we should concede.I was very angry and am still angry we should have defended better.''
ON MAN OF THE MATCH SUNDAY MBA.....
''I think today I had the real Sunday Mba,he was in his element just like during the AFCON. This is the Mba I know,so frustrating because I never had the real Mba in Brazil.''
ON BENCHING DELE OLORUNDARE
...
''I think it's all about the team and not an individual. Dele didn't come on because we had other areas in the team that need strengthening,like my midfielders were not giving me what I want. Dele is in attacker I can't bring him on in that situation and Gambo Mohammed did very well,he scored the first goal and helped in giving our team's shape for the entire 90 minutes.''
ON IF EAGLES WILL RETURN TO KADUNA IN SEPTEMBER...
''I will say either Calabar or Kaduna to me is fine. I love both states, their hospitality, support and follower-ship is brilliant. It doesn't really matter where we play our last qualifier. What is key is for us to qualify for the next round of the World Cup qualifiers. September is still some months away, it all depends on what will happen from now till then.''
ON THE QUALITY OF THE PITCH...
''It was top class. I will say I liked what I saw. It ranked amongst the best playing pitches in Nigeria. Kudos to the stadium management.''