Sodiq Atanda Pledges Loyalty To Apolonia Fier Despite Interest From Apolonia Fier
Published: May 29, 2014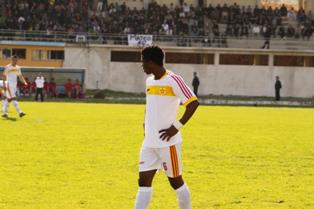 21 - year - old Sodiq Ololade Atanda has pledged his loyalty to Apolonia Fier despite interest from other teams in the Albanian championship.
The defender caught the attention of other clubs this past season, making 27 appearances in the First Division as Apolonia Fier finished second on the table and secured promotion to the Super Liga.
"It is good that offers are coming my way which indicates that an assessment is made. However, so far I do not know anything with certainty.
"Then I have a contract with the club, so those interested in my services better talk with the club managers and Fier presidency. My desire is to be part of Apolonia in the new season," Atanda told the online edition of Albanian sports daily, Panorama Sport.
At the moment, Partizani Tirana are understood to be frontrunners for the signature of Sodiq Ololade Atanda, who joined
Apolonia Fier two years ago.