South Africa Hero McCarthy : Why Okocha, Kanu Were Snubbed World Player Of The Year
Published: December 11, 2017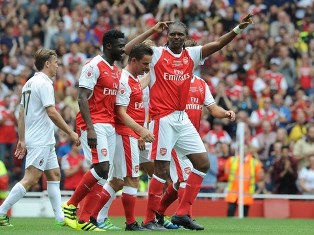 South Africa legend Benni McCarthy has sensationally claimed that several African stars, including Nwankwo Kanu and Austin Okocha, have been snubbed for the World Player of the Year award because they are not cash cows.
Former AC Milan, PSG and Chelsea striker George Weah is the only African to scoop the Ballon d'Or since the inception of the award in 1956.
''We are not eye-catching in Europe. We are players that they look past because they look for the more lucrative, worthy players that will sell more newspapers, sell more magazines and be more of an attraction,'' McCarthy told
BBC Africa.
''If an African player wins it there's not a lot of attraction but, if Gareth Bale wins it, if Rooney wins it, if Ronaldo wins it – it's World news, breaking news.
''Yaya Toure has been but never been recognized, Didier Drogba has been there; never been recognized, Samuel Eto'o has been there; never been recognized, Jay Jay Okocha has been there; never been recognized, Nwankwo Kanu…I can go on, the list can go on but we've not been recognized.
''So, I think because it's not lucrative enough for them to pick an African as world best player because it won't sell.
''Football is a business my friend, everywhere, football clubs, FIFA; everywhere it's about making money.''
Real Madrid superstar Cristiano Ronaldo became the world's best player for the fifth time after beating Barcelona's Lionel Messi to win the Ballon d'Or.
Igho Kingsley
Photo Credit : arsenal.com