Dear Shehu Dikko, The Time To Be Firm Is Now
Published: January 22, 2021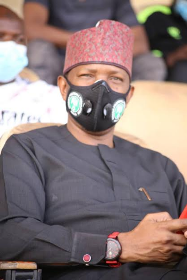 Whenever I remember the name Shehu Dikko, the excitement that comes with it is always  immeasurable, anytime I come across his picture, his level of intelligence strikes my mind and I'm always happy that a very competent individual is in charge of our elite Football League.
A few times I have met the lanky Administrator from the home of hospitality, I am always eager to ask for a photograph, I know he's a man that any sane football lover will want to associate with and twice, he has granted my wish by posing for a picture with me despite the difference in height and status.
Shehu Dikko no doubt is a bundle of intelligence, an emblem of confidence and one man that can do magic with a formidable team and the "enabling environment".
In all spheres, we have seen what the leadership of the League management company LMC can do under the leadership of Shehu Dikko with the way the Nigeria Professional Football League 2021 season has started, the partnership with Redstrike is a huge plus, games are back on television, contents with added quality are flying everywhere with the NPFL getting the positive image it needs to rise and rise.
Nonetheless, my personal grouse has being the manner at which clubs fail to fulfill their part in players contract, I feel the league will be stable if all clubs will pay salaries and other entitlements as and when due.
Even if issues would arise, let's get away from indebtedness and see the magic wand of money.
Shehu Dikko is a man who believes in lodging complains through the right channels, he has received complaints and has acted swiftly and ensured some players were paid their entitlements in the past.
Preemptively, I would have said Shehu Dikko is too comfortable or he has relaxed in making sure the LMC implements and enforce what the framework and regulations talked about, but at the same time, I have to admit that he could be working on so many cases behind the scene and the results will be out soon for everyone to see.
There are instances, players have gone through the proper channel based on the advise and or directive of the LMC boss, but till date, they have not been attended to.
The compliance unit desk of the LMC is at the moment filled with complaints and I wonder how long it will take for the players to smile to the bank for what they worked for.
Some people are saying Dikko is too close to the club owners, others are of the view that the NFF second vice president is too considerate and it will take him time to do what is right as per hammering erring clubs on the issue of overdue payables, I really doubt though because he has done some laudable projects since assuming office.
I am however advising Alhaji Dikko to tighten his grip at the LMC helm, league followers are keen about the right processes and since he is a result oriented man, I will be extremely glad to see a man who roars when it's necessary and smile when the clubs are doing the right thing    
Bayo Adegboyega