'My intentions were genuine'-  Balogun clears the air after confrontation with QPR fans
Published: April 03, 2023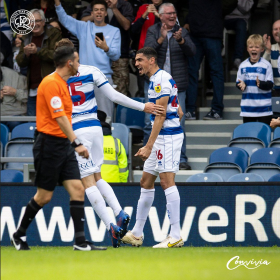 Queens Park Rangers centre back, Leon Balogun has come out to clarify his action after QPR lost 1-0 to bottom-placed Wigan Athletic on Saturday afternoon.
Balogun who started his first game since returning from injury conceded the penalty that led to QPR's loss.

The defeat didn't go down well with the club fans after they saw their team lose to the worst team in the Championship which was also their 19th loss of the season.

The Hoops have won just two games since the departure of former manager, Michael Beale for Glasgow Rangers which explains the reaction of the angry QPR fans.

Balogun after the game approached the fans in a bid to placate them but was met with harsh reaction which led to  a strong confrontation between him and the fans and he had to be taken away by a teammate.
The Super Eagles centre-back took to Twitter on Sunday to explain himself. 
"I am aware of a video going around of me with some QPR fans at the end of yesterday's game and want to clarify what happened.

"When I walked over to the supporters after the match, I do so in order to show my appreciation.

"Did I expect it to be pretty? No. My intentions were genuine and without malice of any kind.
"I do acknowledge that my body language looks a certain way in the video going around, but the sole purpose was to show that I can't hear what one particular person was trying to say and I wanted to speak with him – not argue back but speak.
"I didn't go there to have a go at fans as some are saying on social media – after giving away a penalty I was hardly going to do that!!!
"Yes, I said "calm down" but followed by "talk to me" as I was approaching the stand.
"Not because I think you have no right to be angry (of course you do!) but in order to enter into a dialogue.
"I've been in situations like this before and always found that an opportunity to build a better bond between players and supporters, but also to show some accountability, especially during bad periods.
"Unfortunately, that dialogue didn't and couldn't happen, which is why my team mate Albert tried to pull me away in order to protect me.
"Me resisting him makes the whole situation look worse, I can see that.

"But at no point was I trying to be arrogant, mock any of the supporters let alone argue with them.
"Like I said before: I didn't expect it to be pretty, but I did think that after the initial bit of abuse, we could talk openly.
"I have a lot of respect and appreciation for the support you've been constantly showing us this season, which is why I came over in the first place.
 
"And I know as a team we've let you down massively and you feel like we've not been able to match your efforts, yet again.

"I have been just as frustrated as you that I haven't been able to contribute for the last few months.
"I have asked the club to invite some fans to the training ground so we can talk and I can answer their frustrations directly which is all I wanted to do after the game.

"I am determined to do all I can to play my part in the last seven games because this club should not be in this position and it is down to us - the players - to get across the line."

Balogun moved to Queens Park Rangers last summer and has been a mainstay in the defence, starting 12 games out of the 14 times he has been named in the matchday squad and scoring one goal.

Abdulkareem Abdulhamid
Latest News