ANGELO OGBONNA To Cost Manchester United 16 Million Pounds
Published: September 20, 2012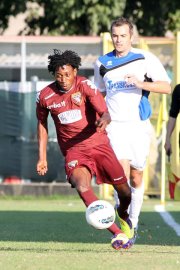 Source: Tribalfootball.com
Manchester United have been warned over Torino's asking price for Angelo Ogbonna.
Sir Alex Ferguson has been told he must cough up at least £16million to land centre-back Ogbonna from Torino.
The Manchester United boss has been tracking Ogbonna since the start of the Serie A season — with Old Trafford scouts running regular checks on the defender.
Toro sporting director Gianluca Petrachi confirmed: "Last year we refused £10m for him but it is clear he is worth more than £16m.
"Angelo has the desire to do better but I believe he should continue to grow with Torino."
Latest News