Abiola Dauda's Move To Red Star Belgrade In Jeopardy Due To Heart Ailment
Published: February 22, 2013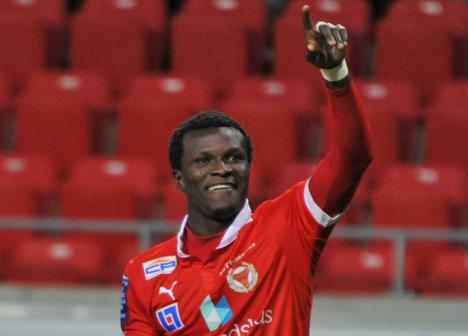 Abiola Dauda's move to Red Star Belgrade appears to be in jeopardy after it was discovered he is suffering from a heart condition, according to Serbian website
mozzartsport.com
.
Based on the result of a medical conducted last week at
Institute of Sport in Kosutnjak , Red Star Belgrade may not offer Dauda, fourth highest goalscorer in Sweden last season, a professional contract.

''Based on the documentation for the player Abiola Dauda and access to the same, we inform you that such a player would not be able to get permission to perform the official football competitions, which refers to the ability of the health of players.

''Additional tests are needed that involve repeated ultrasound examination of the heart, exercise testing and coronary angiography.

''These inspections may be carried 21st February 2013 at the Clinical Center of Serbia in Belgrade.

''After these tests the player will receive a certificate of health, and his further opinion on sports activities,''the report signed by Prof. Dr. Arsen Ristic (cardiologist) and Dr. Mladen Kocic stated.

Abiola Dauda will go for further tests on Friday to determine if the heart condition is serious enough for him to hang up his boots.
The ex Kalmar frontman had signed a two -and-a-half year contract, and he was due to pocket 300,000 euros as annual wages.
Latest News