Yussuf Ayila On His Way To Metalist Kharkiv
Published: February 16, 2014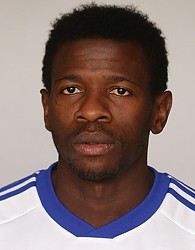 Metalist Kharkiv have opened a line of communication with their Ukrainian Premier League rivals Dynamo Kiev over a loan deal for experienced Nigerian defender Yussuf Ayila.
The Ukrainian transfer window is wide open until March 1, and that means the imminent move of the versatile Super Eagle is not out of place.
Footboom.com says manager of Metalist , Myron Markevych wants to shore up the defense following the injury to Rodrigo Moledo.
Yusuf Ayila has not played a single game for Dynamo Kiev in the Premier League so far this season.
He has been on the books of the capital club for the past 11 years.
Photo Credit : fcdynamo.kiev.ua.