Mobile Sports Betting: Extra Adrenaline For Soccer Lovers
Published: June 20, 2017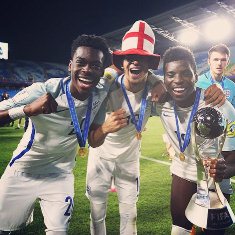 Mobile sportsbooks make it easy to place a bet on soccer matches in Nigeria and around the world. You just need a phone and internet connection. 
Nigerians took great pride in the presence of their countrymen on the English Young Lions squad which emerged victorious in the
recent Fifa U20 World Cup.
Dominic Solanke, Fikayo Tomori, Josh Onomah, Sheyi Ojo and Ademola Lookman all did their nation proud with championship performances.
Some Nigerians, however, had other reasons to cheer. They were among the multitudes of local soccer fans putting their money on the line and winning big for their favourite teams, following their insights and intuitions to profit on their knowledge of international football.
For those of you who have never engaged in sport betting, it has never been easier. Sure, you probably know a bookie at the local betting parlour, or maybe you just wagered with friends while watching a match or discussing the national of champion league fixtures.
Like other forms of gaming, the center of the action now is online. While you can visit an online casino with a sportsbook from any laptop or desktop computer, you can now also do it from your smartphone.
There are websites that are mobile-responsive, meaning they adapt to fit a small screen. They work for iPhones, Samsung, Sony smartphones and tablets – you just need an up to date browser like Chrome on your phone.
The more serious punter may prefer to download a native app. Since sports books was banned from the Play Store,
the best mobile betting site
aggregates quality accredited sportsbooks and other casino apps in one convenient place.
Online and mobile sports betting, or sport books, have become a sophisticated big business worldwide in recent years. It's easy to use.
From your phone or tablet, you can go to the sportsbook's website, or download its app, and then register for an account in a few short steps.
To place a bet, you will need to deposit some money into your sportsbooks account – you can do this with 
e-wallets like Skrill,Neteller,Paypal
, or via a credit card or bank transfer.
Once your account has money, you can place your bet on a myriad of games and matches. And when you win, you can withdraw the money back into your bank account.
Sport books today are truly remarkable in terms of their comprehensiveness, and nowhere is their sophistication greater than in soccer.
They allow you to bet on almost any aspect of the game. And they cover a vast number of teams, some covering the
Nigerian Leagues
and, of course, the big leagues abroad.
Plus one of the big draws about mobile sportsbetting is that there are often free bets and bonuses, including insurance bets. This is obviously much better value!
So leverage your knowledge! Unlike games of pure chance, soccer wagering comes down to your intuition and acquired wisdom about the teams and players you follow. Not to mention that infallible sporting instinct of yours!
Igho Kingsley