Wenger Sends Congratulation Message To Nigerians : Our Player Scored The Goal For You
Published: October 12, 2017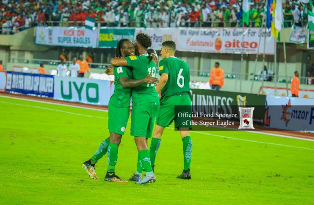 Arsenal manager Arsene Wenger has sent a congratulation message to Nigerians and supporters of the Super Eagles on qualifying for the 2018 World Cup.
And the Frenchman was extremely pleased that one of his pupils, Alex Iwobi, scored the most important goal of his career to date in Saturday's game with Zambia, which sealed Nigeria's place at the World Cup.
''Good morning. Congratulations to all our fans in Nigeria. I know that there are very, very, very many of you and we are very proud that you have qualified for the World Cup,'' said Wenger in a video posted by Arsenal on their
Facebook page.
''On top of that, our player scored the goal for you and that makes us ever prouder.
''Well done, and see you in the World Cup. I am sure you will have a great, great trip there.''
Iwobi, who was in action for 24 minutes against Zambia, has returned to the English capital ahead of the Gunners' Premier League match with Watford at The Vic on Saturday.
Ifeanyi Emmanuel