African Football Expert Otto Pfister : Nigeria Too Emotional, They Think They'll Win World Cup
Published: June 12, 2018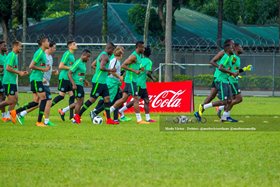 Legendary German coach Otto Pfister has been around since the '70s, he has coached Rwanda, Senegal, Burkina Faso, Zaire, Ghana, Togo and Cameroon national teams, so it's right to call him an African Football expert.
Pfister has opined that Nigeria can spring a surprise at the 2018 World Cup in Russia, but they consistently overestimate their chances of success.
The Super Eagles have reached the last sixteen three times in previous tournaments but failed to progress to the last eight after coming close in USA 1994 and Brazil 2014, losing to Italy and France respectively.
''They think they will win the World Cup, but they're too hot-blooded for that.''

No African team has managed to qualify for the last four of the World Cup; Cameroon (1990), Senegal (2002) and Ghana (2010) were very close but got eliminated in the quarterfinals.

Nigeria, Egypt, Senegal, Tunisia and Morocco are Africa's five representatives in Russia 2018.

Ifeanyi Emmanuel