Iceland's Main Man Cleared To Face Nigeria, Burnley Winger Faces Late Fitness Test
Published: June 20, 2018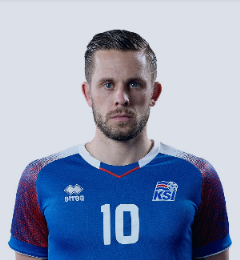 Burnley winger
Jóhann Berg Gudmundsson remains doubtful for Iceland's second Group D match of the 2018 World Cup against Nigeria on Friday, June 22.
According to Iceland assistant manager
Helgi Kolviðsson, it is uncertain whether he can count on
Gudmundsson after he suffered a calf injury in their 1-1 draw with Argentina last weekend.
''Joe is bad. If he is not ready then a man comes in his place. This is something we make a final decision tomorrow, "
Kolviðsson said at Wednesday morning's press conference.

"This will be close. It is completely clear. We hope the best and do everything we can do. "

Meanwhile, there is good news regarding the fitness of Iceland's star player Gylfi þór Sigurðsson, with the Everton midfielder set to feature against Nigeria despite not taking part in full training on Tuesday.

Iceland will fly to Volgograd, the venue of their match with Nigeria, on Wednesday, June 20.
Photo Credit : ksi.is