Awaziem Gives The Cold Shoulder To Grassroots Club That Produced Mikel, Onazi
Published: April 02, 2019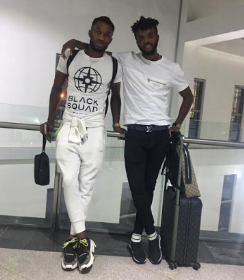 It is believed that Chidozie Awaziem emphatically refused to speak to coaches of his grassroots club, Junior Elkanemi while he was on duty for the Super Eagles of Nigeria and Dream Team VII this month.

According to a very authoritative source who spoke with allnigeriasoccer.com after the international break, Sanni Chagee, one of the coaches of Junior Elkanemi had contacted a well respected Jos-based sports journalist in Asaba on phone from Jos urging to speak to Awaziem but the lad, in the most arrogant manner said he doesn't want to speak to them.

The source, who is also a journalist covering the games for a Jos-based radio station, said the attitude the boy put up came as a rude shock to him.
" I was really shocked with the way Chidozie Awaziem turned his grassroots coaches down on phone. What if they were around physically in Asaba to cheer him up, I cannot imagine the embarrassment they would have faced", the journalist said.
"I thought these boys boys should be learning from Ahmed Musa's humility by now. Musa openly identified with everyone from Jos and even gave us a special attention but imagine these ones that started their careers yesterday, it's very unfortunate. They should know football career is a very short one," the journalist added.
Chidozie Awaziem was transferred from Junior Elkanemi of Jos to FC Porto of Portugal alongside Gee-Lec Academy's Irene Fidelis Christopher in the summer of 2014.
Following the deal, it was said that there was a cold war between FIFA licensed agent, Babawo Mohammed who brokered the deal and officials of Junior Elkanemi but the reason for their misunderstanding was not made public.
Feelers allnigeriasoccer.com is getting from Jos is pointing to the fact that Awaziem's behavior might be a fallout of that cold war as the player is being managed by Babawo.
Other Junior Elkanemi products that have played for Nigeria include Joseph Akpala, John Obi Mikel and Ogenyi Onazi.
Ferdinand Mbum