IKECHUKWU UCHE Wants Villarreal To Start New Season On Blistering Note
Published: August 13, 2012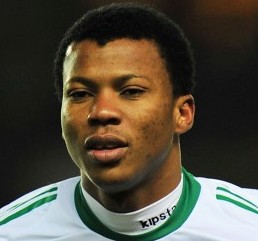 Ahead of the start of the Segunda division on Friday, Villarreal striker Ikechukwu Uche is confident his team can return to Spain's top flight at the end of the 2012 - 2013 season.
Uche told Villarreal's official website: '' The team is already at a good time playing and is safe. The latter part has shown that we are on track for the start. We are working well and we are very confident for the start of the championship. The team already has shown what it can do and the match with Levante is a sample of that.''
The one time Getafe attacker has advised his teammates to start the season on blistering note as Spain's second tier is not easy to navigate.
''The Second Division is long and complicated. This team should not face the league beginning with nerves, we have quality and we have to deal with this first game with confidence. It will not be easy, this is a complicated competition and therefore each match will be difficult. But this is a great team and a great club, which should be competing with the best,'' said Uche.
Villarreal welcome Real Madrid B Team to El Madrigal on Friday, August 17.