TAYE TAIWO: PSG Is A Very Good Team
Published: September 17, 2012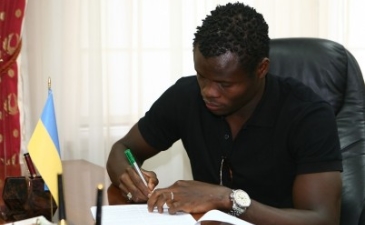 Nigerian defender Taye Taiwo is relishing the prospect of facing PSG in the Champions League on Tuesday.
The wing-back spent seven seasons in France with Marseille, bitter rivals of the capital side. Taiwo is also looking forward to meeting some of his old friends at AC Milan.
''This is a very good team. This season they have added several new players of the highest level. I can highlight Ibrahimovic, Thiago Silva and Alex. They also have a very experienced coach, so our confrontation with the Parisians is going to be difficult. But we - the team, so we need to go on the field and give all the power to achieve a positive result, '' says Taiwo in an interview with the official website of Dynamo Kiev,
www.fcdynamo.kiev.ua.
The ex Gabros ace added: ''Indeed, I have a couple of friends in PSG. It would be nice to see the guys that we played together.''
Photo Credit: Dynamo Kiev
Latest News