Overdue Payables : LMC Set To Sanction Rangers For Breach Of Contract; Sunshine Stars, Kwara United, FC Ifeanyi Ubah Too
Published: January 29, 2019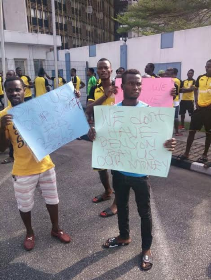 It was clearly highlighted in the 2017/2018 Nigeria Professional Football League frame work that the LMC frowns at clubs breaching contracts with players, by refusing to pay for the services rendered, this ill wind has over the years blown the League no good.
Article 9.45, subsection 1 says "Clubs are required to comply with their financial obligations towards players, employees and other clubs as per the terms stipulated in the contracts signed with their professional players, employees in the transfer agreements.
On the path of Enugu Rangers, they have refused to pay Duru Stephen Arinze outstanding remunerations, a player who faithfully rendered his professional services between February and October 2015.
Payment Shortfalls of 180k each in four months, totaling N720,000, salaries for the months of July, August, September and October 2015, a total sum of N1,520,000 and also loan consideration fee of N700,000, a total of  N2,940,000.
With the forgoing it is evident that Rangers breached article 9.45 of the NPFL framework of rules applicable to overdue payables.
Similarly, Sunshine Stars of Akure, they were at a point victims of the LMC Sledge hammer, they have however shown that they don't learn from the past.
When the LMC descended on the Akure gunners back then, they were hindered from registering new players, the consequence was a talk of the town, they lost scandalously as they were unable to play with most of their players.
In a similar fashion, they have breached article 9.45 of the LMC framework through Mbonu Michael Chigozie who they owe the sum of N2,105,000,  Ogagotewho Sunday Oke is also being owed N2,750,000, Olorundare Oladele, N5 million, Isiaka Oladuntoye, N3,580,000, Agbor Ekoi is being owed N3,605,000 and Akinroyeje Olumide N2 million.
They are not new to LMC sanctions, it is not out of place if they start the season on that note.
Newly promoted Kwara United are also culpable of the same offense, it could be a case of new season, new punishment for the Kwara State based team, and their whole season may be defined by this singular act of contract breach, obviously, they wouldn't want to return to the Nigeria National League with just a season at the elite division, but they can as well fast track their relegation if they fail to pay Joseph Eyimofe the N3,400,000 they owe him.
FC Ifeanyi Ubah decided to join the bandwagon of clubs also breaching players contract as they are indebted to their former players who terminated their contract based on the inability of the club to meet financial obligations due to their employees, Akinyemi Oluwaseun N6 million and Samuel Akinrinade N7,200,000.
There have been correspondences  to these clubs via the intermediary of the players, a handful, as a follow  up were also sent to the LMC as well, but it seems Enugu Rangers,  Kwara United, Sunshine stars FC Ifeanyi Ubah are confident that they will go scot-free, therefore confidently taking LMC for granted and breaching the rules, on the path of  the  League governing body, i term their decision not to further respond to the correspondences on their table as "We know our Job, dont teach us", going by this, after sanctioning Plateau united for breaching the rules, Rangers, Sunshine, FC Ifeanyi Ubah and Kwara United are next and in line for the beautiful sledge Hammer.
Article 9.45 of the NPFL rule book talked extensively about Overdue Payables, Subsection 4 says within the  scope of its disciplinary jurisdiction, the LMC may impose the following sanctions, 4.1, a warning, 4.2 a reprimand, 4.3 a fine, 4.4, a ban from registering any new players for one or two entire and consecutive registration periods, 4.5 Confiscation or withholding of proceeds accruing to the club from the transfer or sale of players and using such funds to settle the overdue payables, 4.6 Withholding of funds accruing to the club from the LMC and more as highlighted in the framework.
In December 17, 2018, The Botswana Football Association released a communique, informing all League organisers from the Premier League to the lower leagues that as per Club licensing regulations, teams playing in the Premier League having overdue payables in terms of employees (players and coaches) remunerations will not be allowed  to register new players, the Association also created a unit to ensure that clubs having overdue payables are not allowed to play and subsequently sanctioned.
The Nigeria  Football Federation is also against the wicked and worrisome habit, it will be recalled that sometime last year the NFF through the office of the General Secretary addressed a letter to the LMC and the other league organisers demanding for severe sanctions on erring clubs as it relates to overdue payables, specifically not participating in the leagues. If they got it right in a smaller country like Bostwana, it will be a slap on the LMC if they fail at this point in time.
The LMC I know is not a toothless bulldog, it wouldn't make rules if it would not implement them, besides, they have done it before, trust them to do it again, they have said it via the rule book that Rangers, Sunshine stars, FC Ifeanyi Ubah and Kwara United have breached the extant rules of Africa's most respected League governing body, they will sure face the wrath.
Bayo Adegboyega