Ighalo Goes West
Published: June 23, 2020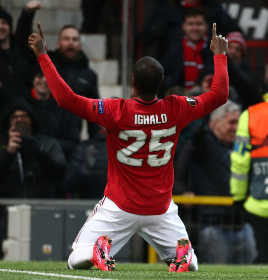 Chinese Super League
Though born in Lagos, Nigeria, Odion Ighalo didn't stay in his native country for long.
A promising career in football saw the athlete head north to play for the Norwegian club Lyn in 2007. For the next few years, Ighalo bounced around Europe's most elite leagues.
He spent a season with Serie A club Udinese in Italy before heading to Granada to play in Spain's La Liga.
There was a season with Cesena back in Serie A, then three whole years in the Premier League with Watford.
In 2017, Ighalo was sent on loan from Watford to the Chinese Super League to play for Changchun Yatai.
Begun in 2004 as an answer to a highly chaotic and unregulated Chinese Jia-A football league, the CSL has since worked to establish itself as an elite football league in Asia.
Consisting of sixteen competitive teams, one way the CSL has legitimized itself is by making major trades with elite football clubs in Europe.
In many ways, the CSL has succeeded in its wish to become a prominent football club. The league is now the sixth-most popular football league in the world behind the Bundesliga, Premier League, La Liga, Serie A, and Liga MX.
More and more common major franchises have begun to trade players to and from the CSL, as is the case with Ighalo, sent on loan to play for Changchun Yatai.
Following a subsequent stint with Shanghai SIPG in 2019, Ighalo packed his bags to head west to Europe.
While Ighalo is on loan rather than having been traded from Shanghai SIPG to Manchester United, he couldn't be happier to be back in the Premier League
However, despite the fact that soccer all-star footballers like Bruno gained notoriety for moving east to play in the Chinese Super League, there's considerably less coverage of the CSL.

Most players all but disappear from the public eye given obstacles like time difference and streaming difficulties.
Now that Ighalo is back in the UK to play for Manchester United, fans can easily
bet on the English Premier League
or stream Man U games through different sports channel or Amazon Prime Video. 
Return to the Premier League

Considering the vast amount of Nigerian-born players in the Premier League, Ighalo will likely feel at home back in the UK.
While he may be facing off against fellow Nigerians, like
goalie Arthur Okonkwo
(should he be picked up by Arsenal), Ighalo's return to the Premier League is a welcome change for the seasoned athlete.
In fact, he recently called the move to Man U " a dream." Ighalo has long been a fan of the top-seeded club, and given he recently turned 31 years old and will be playing his most competitive seasons in the coming years, his move to the Premier League came at the perfect point in his career.
However, celebrating his 31st birthday doesn't indicate that Ighalo is slowing down anytime soon.
Quite the opposite, in fact. Despite being on loan from another team, Ighalo has started three of the eight games he's played at Old Trafford.
During his eight appearances, Ighalo managed to put four goals behind the net and assisted one goal.
Not only did this prove Ighalo's worth to the club, but it also made him a favorite amongst fans.
Not only can he put goals away, but Ighalo has a refined touch on the ball that makes his technical play a beautiful thing to watch. 

A Birthday Wish Come True?
As Ighalo approaches his final years of competitive play, many have come forward to congratulate the player on landing a spot on Manchester United's squad.
The Nigeria Football Federation, Confederation of African Football, and Premier League all reached out to
wish the player well on his birthday
.
However, these aren't the only organizations that have taken to social media and beyond to share highlight clips of the player and congratulate him on his birthday.
Ighalo recently publicly thanked three players at Old Trafford who helped introduce him to the club and assimilate to life there following a big move from Shanghai.
Juan Mata, David de Gea, and Sergio Romero are now "like brothers" to Ighalo, according to the Nigerian athlete.
Something that helped unite these four players is a common tongue, Spanish, which Ighalo picked up during his time playing in La Liga.
Igho Kingsley