I Can't Forget My Roots - JUDE NWORUH
Published: July 27, 2012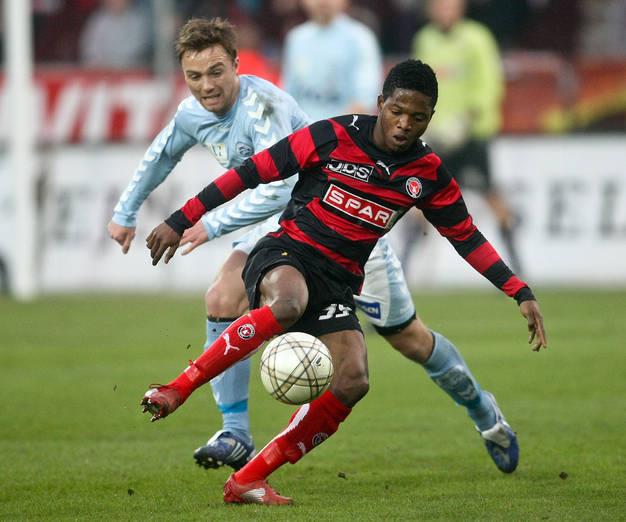 In this interview, FC Midtjylland striker Jude Nworuh talks to
Allnigeriasoccer.com's
Sam O' Femi Fasetire on his career in Denmark and a variety of issues.
ANS: We remember you played an exhibition match with some of your Denmark–based club mates and friends during your last holiday in Lagos. What impact do you think you made in the game at Red Sand Field, Okota on that day?NWORUH
: That is the pitch where I grew up and I still have a lot of fans there. They have been willing to see me all these years and it was a good opportunity for me to return to where it all started for me. I am happy that I played the game and I'm sure everyone really enjoyed it. It was a very lovely game and the atmosphere was fine. At the same time, I was happy that my team won. I was really happy with how everything went and happy for my friends that came.
ANS: What motivated you to embark on the event and what did you hope to gain from it?
NWORUH
: I always told my friends in Denmark that Red Sand is the pitch where I trained in Nigeria and nothing can stop me from still going there. That is where I started my football and I say my fans will never be disappointed in me. I want to make them happy and I know they were happy on that day. I was also very happy to see their support on the day and it is always going to be something to remember.
ANS: Are your promising something extra next time? Maybe do something more or something different?NWORUH:
Yeah, I'm expecting to keep coming back to my roots and willing to do more. I want to do something bigger. It's just a matter of time and I believe it's going to come one day. I believe in God that he is going to bless me more and that it's going to come very soon.
ANS: We can say Amen to that. Now, tell us about your adventure in Europe. How has it been for the past few months and years?NWORUH
: This year has been better for me, similar to last year when I was on loan from FC Midtjylland to Fredericia. I was happy that, even during that period when I was on loan, I was the best player and top scorer in the team. I was also fifth top scorer in the league, in which I scored 15 goals. For me, it was a very lovely season, in which everyone was satisfied, even the coach, which is the most important thing for me as a player. It has been very lovely for me in Denmark and I am very satisfied.
ANS: Talking about being on loan last year, why did you leave Midtjylland to join a team in the lower division in the first place?
NWORUH
: It's a long story. First, it was about my contract. I had a little misunderstanding between me and the club president. I told him my mind…it was mostly about the time I was getting playing on the pitch. I needed more time at that moment and that's why I asked for a loan. They loaned me out and I was happy it turned out good for me. I was able to play almost all the matches in the team … apart from the time when I was injured … and it was a great season for me. After that, I decided to move on from there, but they wanted me back at FC Midtjylland and I decided to return there last summer, which turned out to be another blessing from God for me, because this year has been so good for me so far.

ANS: So, what were your targets when you decided to return to Midtjylland?NWORUH
: I knew that I needed to focus fully on my game; just do my best and help the team. The fans and the coach are all expecting the best from me and I am still thinking of making them proud in the second half of the season. I believe it's going to be a wonderful season for me, which I want to make the best. It will take me hard work to get there and that I am willing to do.
ANS: Okay, let's look at the situation in which there are now six Nigerians at FC Midtjylland. Don't you think there are too many of you guys in the same team?NWORUH
: I know it is a competition among all of us, but the most important thing is that we understand one another. We have been living together for about four years and there has never been a single day when we have any misunderstanding or something like that.

ANS: After Midtjylland, what will be your next destination?
NWORUH
: Before the last season ended, offers came for me from Holland and Belgium. They came to Denmark to see me and I'm sure they were very satisfied with my performance. They are still talking with my agent and some other clubs in Denmark are also now talking about me for this summer's transfer market, but I just have to wait and see how it goes….
ANS: Let's move to the national team level. At a point it was like you were going to play for the Flying Eagles in 2009, but nothing came out of it. What happened?NWORUH
: Actually, I don't understand what happened. It's a long story for me. I remember how I flew from Denmark to join the camp in Spain. Three days later, they said they had made the final squad for the World Cup and I was not included. I am just a player; I don't know what went wrong. I did what I had to do. I gave respect to the coach and players. I had a very nice time with them and then returned to my club.
ANS: After that experience, will you still be ready to play for Nigeria?
NWORUH
: I wish and I hope that I will still have another opportunity to play for my country….
ANS: We know you are beyond the Flying Eagles now, so are you making targets for the Super Eagles?
NWORUH
: There has been so much news about me in the newspapers and stuff like that. What I just want is the opportunity to prove myself, which I am willing to make Nigerians proud. I believe my contribution is going to help a lot in whichever team I eventually get to play for Nigeria.

ANS: Finally, as 2012 is fast running out, when you look back on December 31st, what would be that thing you'd be proud to say: this is what I wanted in 2012 and I got it?NWORUH
: My aim is to score lots of goals before the year ends. That is my target and I hope. I wish that I'm going to do it with any club that I find myself in the second half of the year.
ANS
: We wish you all the best…..
NWORUH
: Thank you….
Sam O' Femi Fasetire
Latest News