ALSENY KEITA Assures He is Not Quitting Liberia Team
Published: July 31, 2012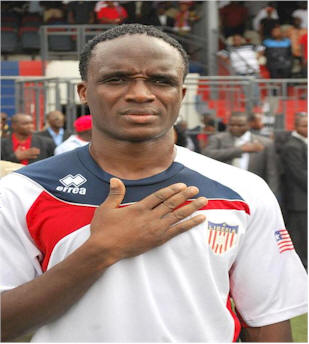 French based Liberian striker Alseny Keita has not quit the National Team after all. Thus, he is available for selection when the Lone Stars meet the Super Eagles of Nigeria in September's African Cup of Nations qualifier in Monrovia, informs
liberiansoccer.com.
Shortly after June's World Cup and African Nations Cup qualifiers, Alseny Keita was hospitalized in France, and was reportedly abandoned by the Liberia FA.
''We are very closed to the 2013 nations cup in South Africa and I want to help Liberia achieve such feat. I had some problems, but constant calls and concerns from Lone Star head Coach Kaetue Smith, Deputy Coach Kelvin Sebwe, Team Manager Sebastian Collins and LFA Vice President for Administration Mr. Musa Shannon had me reconsider my decision.
''Let me tell the Liberian people that I am still with the national team and no turning back. I can assure them that we will fight and achieve our goal by beating Nigeria and qualify for the 2013 nations cup in South Africa,'' says Keita to liberiansoccer.com
Alsény Këïta, 29, has also represented Guinea at international level. He was part of the squad to the 2004 Olympics.