Chinasa Okoro: You Must Have Connections To Play For Falcons
Published: January 04, 2013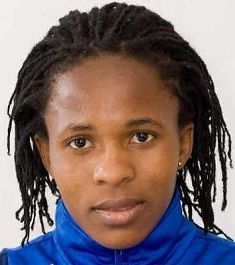 Gloria Chinasa Okoro, striker for RTP Unia Racibórz, is one of the best female footballers in Poland. The one time Rivers Angel star played for Equatorial Guinea at the 2012 African Women Championship.
Interviewed by
Prezglad Sportowy
, Okoro spoke on the reasons she chose Equatorial Guinea instead of The Falcons of Nigeria.
''In 2005, we played a cup match with the team of Equatorial Guinea. I played the game very well because I scored three goals. Soon after, I received a proposal to play for the national team of the country. I did not think for a long time, because in Nigeria you must have connections to play in the national team (Falcons).''
Chinasa is like Emmanuel Olisadebe, the first black player to play for Poland. He did not have a chance to play for the Super Eagles, so decided to wear the white and red colors.
''I am in Equatorial Guinea when we have matches and tournaments. I have an apartment in the country's capital Malabo.
In comparison with Nigeria is a very peaceful place.
I really feel good out there and I'm glad that I can play for the country,'' she said.

Chinasa Okoro scored a brace in the final of the AWC against South Africa. Her dream is to play in one of the major leagues in Europe preferably Germany.


Photo Credit: afryka.org