Stephen Keshi Wants To Return To Brazil In 2014
Published: June 17, 2013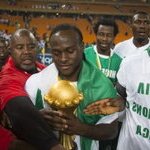 National Team coach Stephen Keshi has been denied twice the opportunity of leading an African Nation to the premier soccer competition in the world, the Fifa World Cup.
In 2002, he and Amodu Shuaibu were sacked after the Super Eagles could only manage third position at the African Cup of Nations.
That same year, Nigeria participated at her third World Cup but were led to the tournament by Chief Adegboye Onigbinde.
Then four years later, despite guiding Togo to a historic World Cup qualification, Keshi was relieved of his appointment four months before the start of the tourney after the Hawks failed to progress from the group stages of the 2006 Afcon.
The ex New Nigeria Bank libero told reporters:''
Togo was not the first country that denied me .
Nigeria itself denied me this in 2002.
Togo was one more
.
''
Now I can bring my country to this stage of football ...
this is one of those dreams that have come true.
If I can bring Nigeria back here for the World Cup, I'll be very happy.
I still think I'll get something in football as a coach.''
Nigeria tops African World Cup qualifying Group F with 9 points, just 2 points ahead of closest challengers Malawi.