Europa League Shocker: Hodd's Akeem Latifu Denied Entry Visa To Kazakhstan
Published: July 24, 2013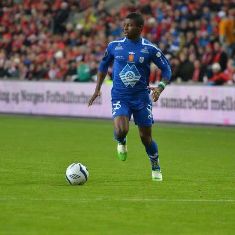 Former Nigeria youth international Akeem Latifu has been denied an entry visa to Kazakhstan, and it is confirmed that he will miss Hodd's Europa League second round qualifying fixture against FC Aktobe on Thursday.
The Norwegians who narrowly won the first leg 1 - 0 will also be without another key player, 21 - year - old midfielder
Sivert H. Nilsen, the son of the charismatic coach of Hodd, Lars Arne Nilsen.

''Obviously I am disappointed I can not help my team after I was refused a visa. The squad traveled this morning without me.

''I have been to Canada, where I played for the Under 20 national team, England, Scotland and Turkey.

''So I don't really know their excuse but I have taken the decision of the embassy in good faith.

''I believe Hodd will qualify for the next round of the competition without me.

''We believe in teamwork and the absence of two players can't stop our ambition. '' a moody Akeem Latifu told allnigeriasoccer.com in a telephone conversation.

Akeem Latifu, 23 , who is acknowledged as Hodd's most important player is a well - traveled man.

Just after the 2007 Fifa Under 20 World Cup held in Canada, he tested with Scotland powerhouse Glasgow Celtic and Portuguese club Porto.

In addition, Hodd usually hold most of the training camps in Turkey.

Latest News